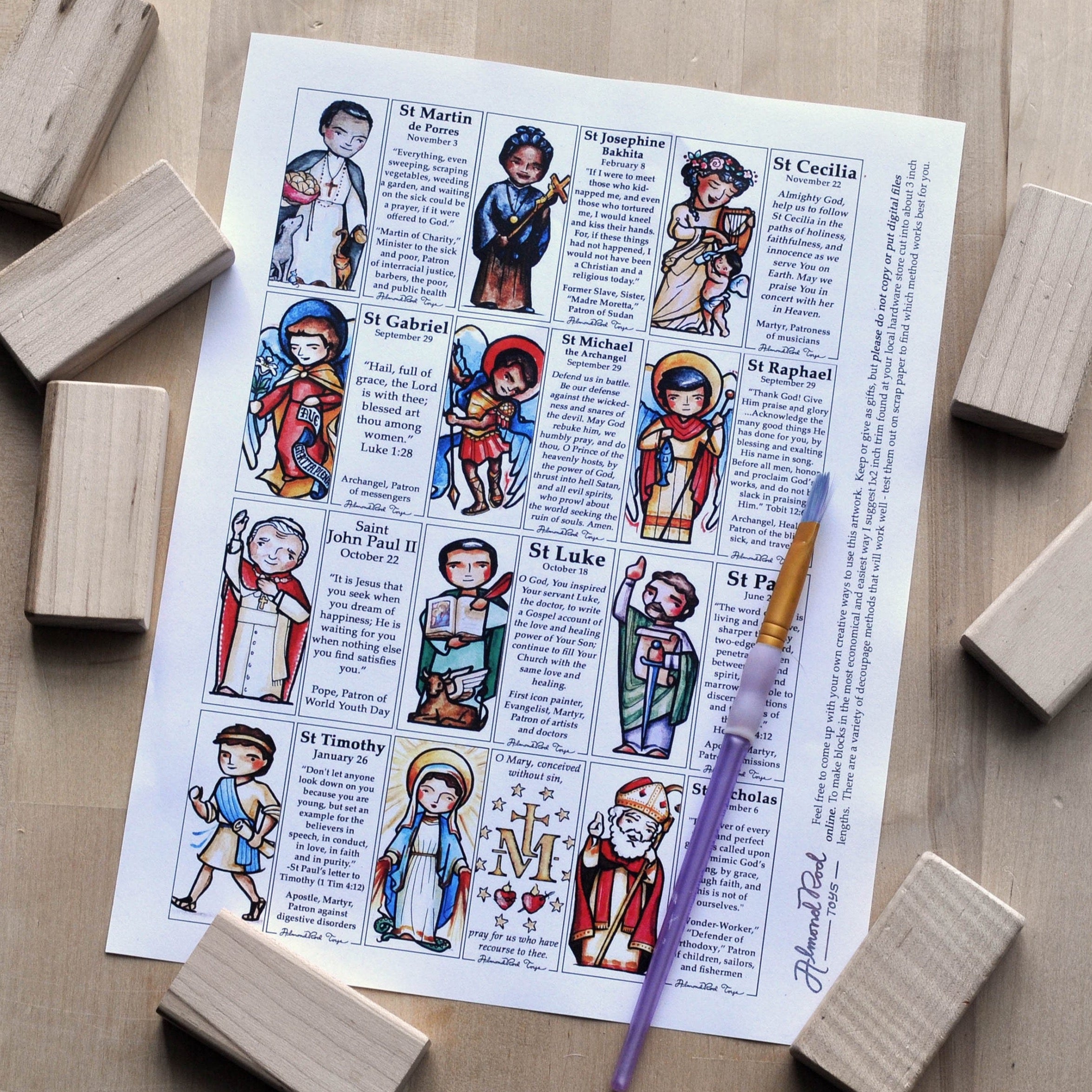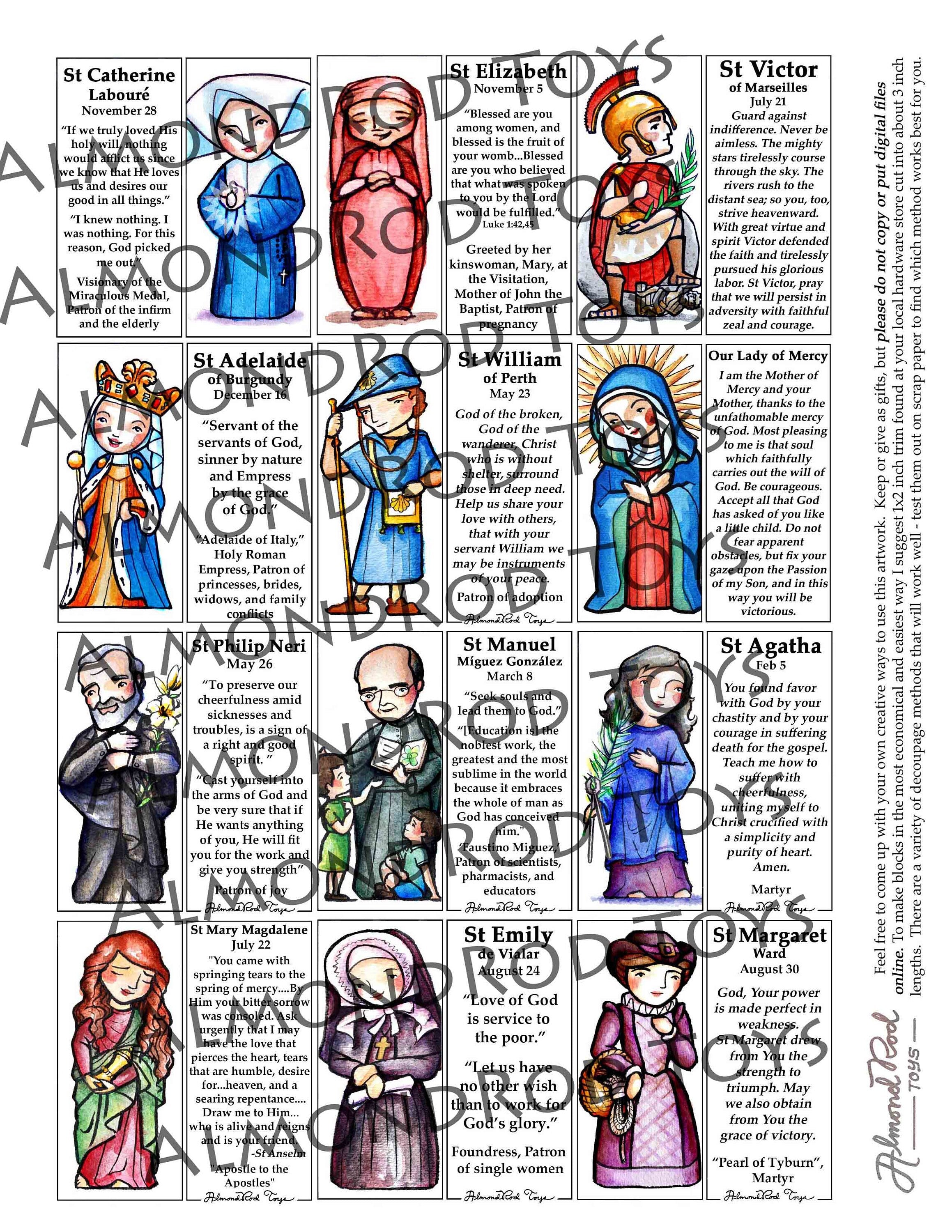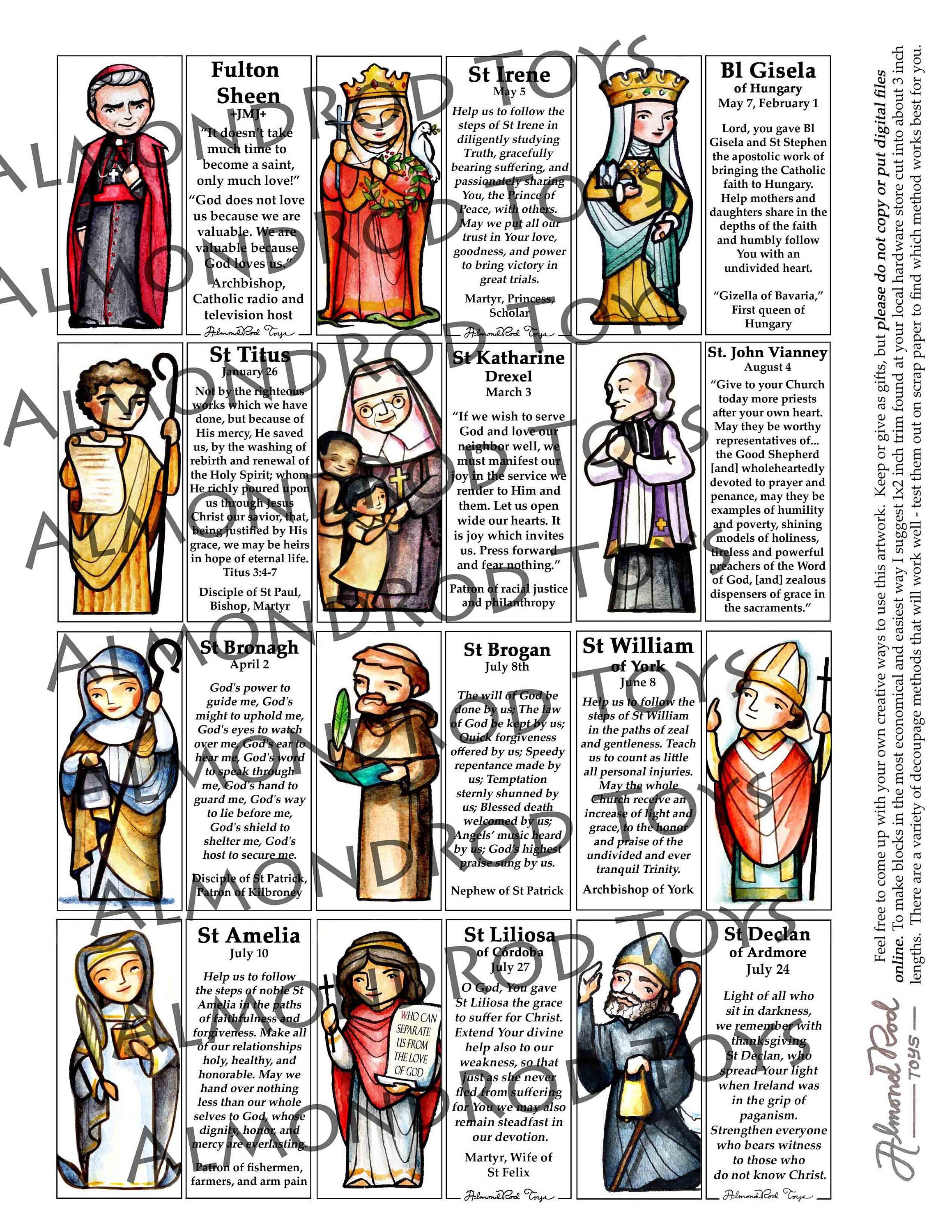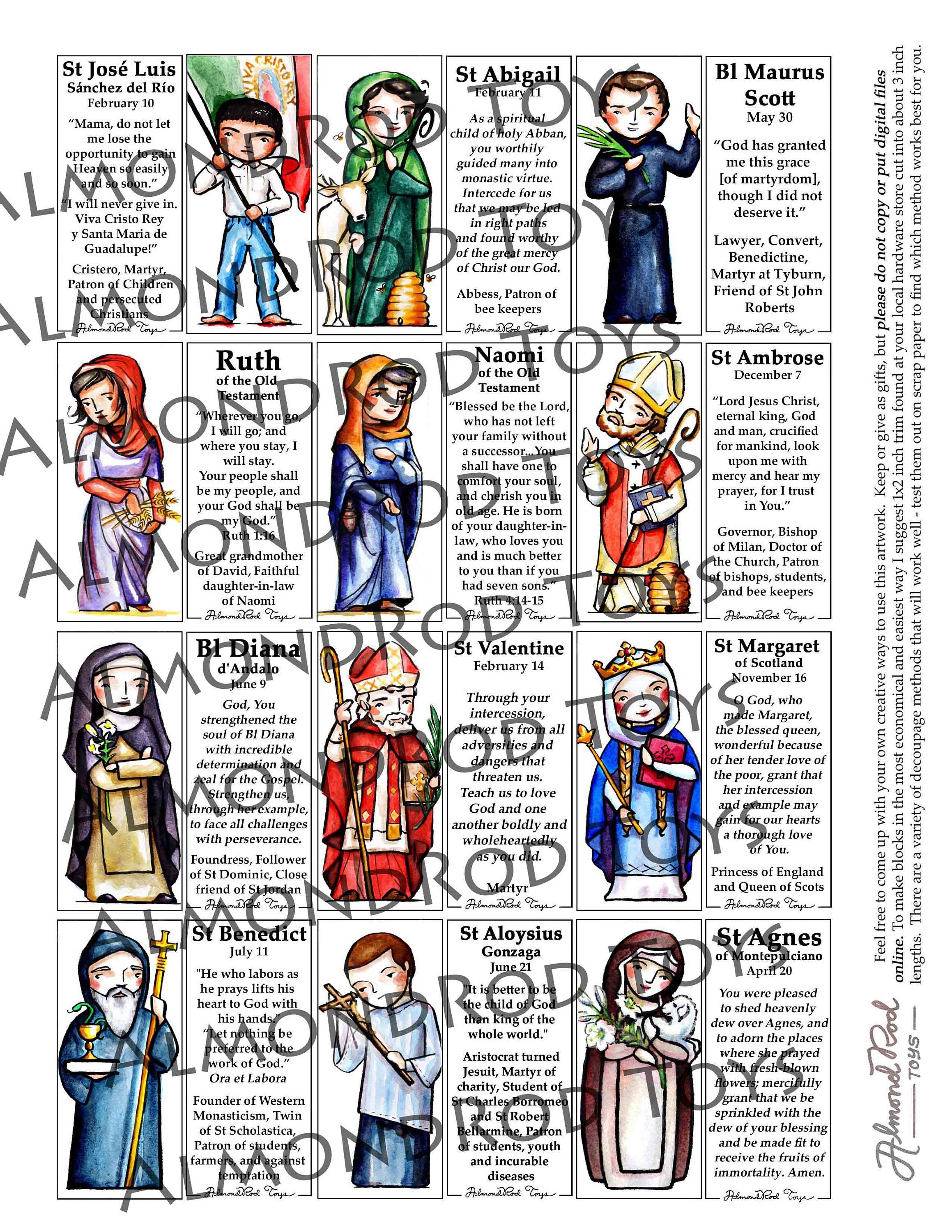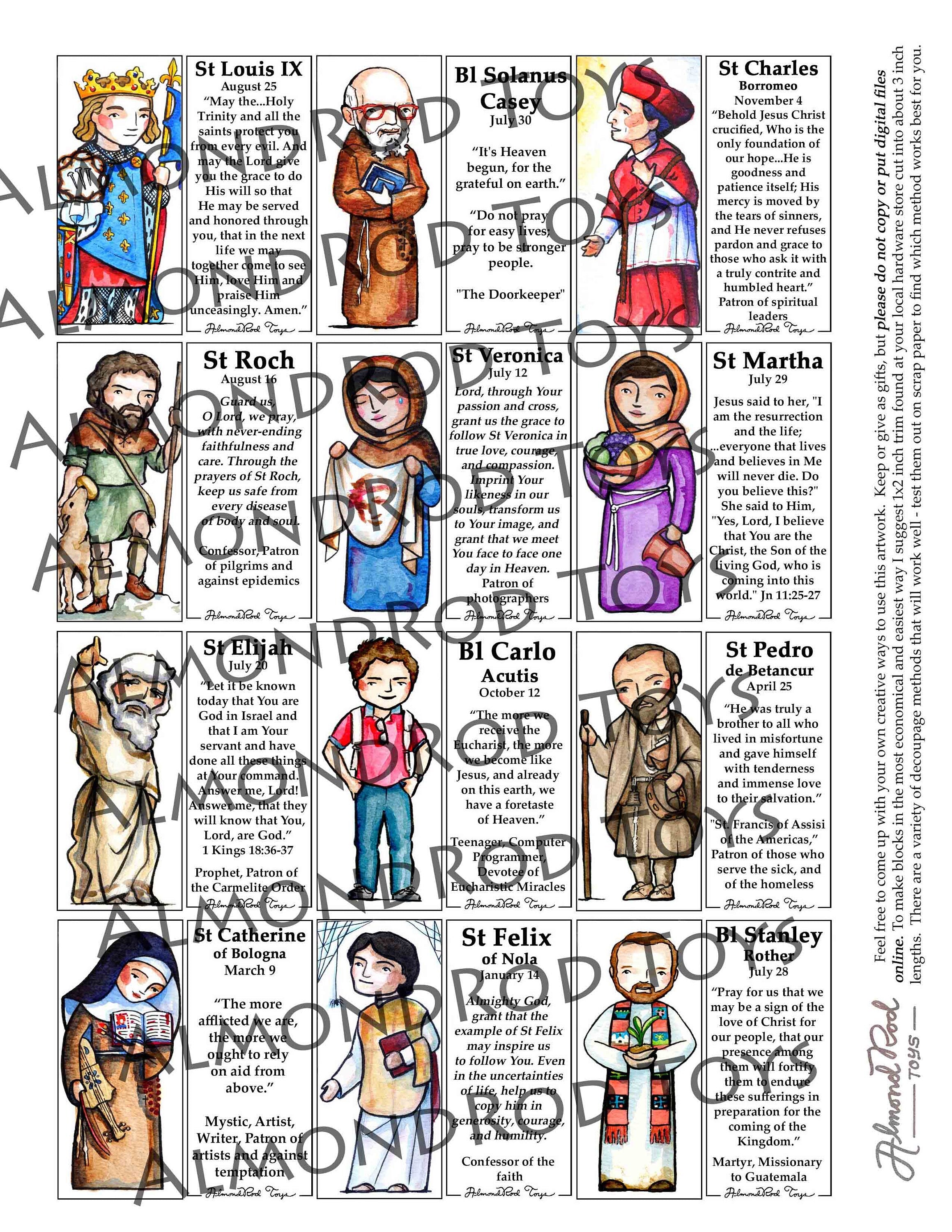 Saint Collection // Decoupage Craft Sheets
CRAFT SHEET SELECTION:
CRAFT SHEET 1
Start your Saint Collection! Choose from my 24 pages with 12 different saints per page. Choose which CRAFT SHEET #s you would like and type them in the box. Use the drop-down menu to select how many pages you are purchasing. (wood blocks aren't included, sorry!)
Want the complete set? Click HERE.
CRAFT SHEET 1
Dymphna
Francis de Sales
Colette
Alice
Maria Goretti
Alexander of Jerusalem
Mary Queen of Heaven
Peter Claver
Bernadette
Blessed Sacrament
Dominic
Christ the King
 
CRAFT SHEET 2
Brigid of Ireland
Bruno of Cologne
Daniel of the Old Testament
Divine Mercy
Faustina
Isidore of Seville
Thomas Aquinas
Gianna
Elizabeth Ann Seton
George
Lydia
Leo
 
CRAFT SHEET 3
Catherine Laboure
Elizabeth of the Visitation
Victor
Adelaide
William of Perth
Our Lady of Mercy
Philip Neri
Manuel Miguel Gonzalez
Agatha
Mary Magdalen
Emily de Vialar
Margaret Ward
 
CRAFT SHEET 4
Fulton Sheen
Irene
Gisela
Titus
Katharine Drexel
John Vianney
Bronagh
Brogan
William of York
Amelia
Liliosa
Declan
 
CRAFT SHEET 5
Jose Luis del Rio
Abigail
Maurus Scott
Ruth
Naomi
Ambrose
Diana
Valentine
Margaret of Scotland
Benedict
Aloysius Gonzaga
Agnes of Montepulciano
 
CRAFT SHEET 6
Louis IX
Solanus Casey
Charles Borromeo
Roch
Veronica
Martha
Elijah
Carlo Acutis
Pedro de Betancur
Catherine of Bologna
Felix
Stanley Rother
 
CRAFT SHEET 7
Our Lady of Good Help
Bridget
Edward the Confessor
Elizabeth of the Trinity
Our Lady of the Arctic Snows
Eva of Liege
Our Lady of La Vang
Sylvia
Oscar Romero
Mary Undoer of Knots
Peregrine
Sara Salkahazi
 
CRAFT SHEET 8 (Latino Saints)
Toribio Romo
Laura Montoya
Maria Romero Meneses
Maria Antonia of St Joseph
Roque Gonzalez
Francisca de Paula de Jesus
Dulce
Concepcion Cabrera de Armida
Ceferino Namuncura
Carlos Manuel Rodriguez
Ana of the Angels
Teresa of the Andes
 
CRAFT SHEET 9 (African Saints)
Augustus Tolton
Julia of Corsica
Ghebre-Michael
Cyprian Tansi
Daudi and Jildo
Moses the Strong
Kaleb
Marie-Clementine
Serapion the Sindonite
Victoire
Benedict Daswa
John Colobus
 
Craft Sheet 10 (Asian Saints)
Kuriacose Elias Chavara
Rani Maria Vattalil
Peter To Rot
Matha Wang Luo Mande
Augustine Phan Viet Huy
Takayama Ukon
Peter Wo Guosheng
Augustine Yu Chin-gil
Paul Thoj Xyooj
Nicholas Bunkard Kitbamrung
Cecilia Butsi
Agatha Kim A-gi
 
CRAFT SHEET 11 (12 apostles, Jesus and Mary)
Matthew
John
Jude
Matthias
Bartholomew
Thomas
James the Greater
James the Less
Peter
Simon
Andrew
Phillip
Jesus Risen
Annunciation of the Blessed Virgin Mary
 
CRAFT SHEET 12
Alphonsa
Joseph Vaz
Peter Kibe
Francis Xavier Cabrini
Teresa of Avila
Dominic Savio
Pier Giorgio Frassati
Lawrence
Hugh of Lincoln
Susanna
Adeline
Eloise
 
CRAFT SHEET 13
Sebastian
Our Lady of Guadalupe
Juan Diego
Damien of Moloka'i
Kateri
Monica
Augustine
Teresa of Calcutta
Felicity
Perpetua
Lucy
Mark
 
CRAFT SHEET 14
Martin de Porres
Josephine Bakhita
Cecilia
Gabriel
Michael
Raphael
JP II
Luke
Paul
Timothy
Our Lady of the Miraculous Medal
Nicholas
 
Craft Sheet 15
Francis of Assisi
Joan of Arc
Maximilian Kolbe
Anne
Anthony of Padua
Catherine of Alexandria
Clare
Francis Xavier
Gregory the Great
Hildegard
Isaac Jogues
Ignatius Loyola
 
CRAFT SHEET 16
Therese of Lisieux
Immaculate Heart
Sacred Heart
Jacinta
Jerome
John the Baptist
Lorenzo Ruiz
Mary, Mother of God
Natalia
Rose of Lima
Our Lady of Lourdes
Christopher
 
CRAFT SHEET 17
Magdalene of Nagasaki
Andrew Dung Lac
John Berchmans
Paul Chong Hasang
Olivia
John Brebeuf
Clement I
Agnes Le Thi Thanh
Zita
Basil
Benedict the Moor
Emma
 
CRAFT SHEET 18
Sophia
Our Lady of Czestochowa
Josemaria Escriva
Cajetan
Casimir
David
Pulcheria
Nicolas Steno
Margeret of Costello
Rafael Guizar
Our Lady of Consolation
Our Lady, Help of Christians
 
CRAFT SHEET 19
Alphonsus Ligouri
Our Lady of Mt Carmel
Angela Merici
John Chrysostom
Guardian Angel
Rita
Elizabeth of Hungary
Margaret Mary Alocoque
Miguel Pro
John of God
John of the Cross
Noah
 
CRAFT SHEET 20
Agatha Han Sin-ae
Jane Francis de Chantal
Athanasius
Louis Martin
Gregory Nazianzen
Charles Lwanga
Bridget of Sweden
Charlotte
Justin Martyr
Our Lady of the Rosary
Albert the Great
Peter Julian Eymard
 
CRAFT SHEET 21
Imelda
Peter Canisius
Andrew Kim Taegon
Isidore the Farmer
Joseph the Worker
Our Lady of Perpetual Help
Paul Miki
Joseph of Cupertino
Vincent de Paul
Bernard of Clairvaux
Jacob of Nisibis
Scholastica
 
CRAFT SHEET 22
Adrian
Barbara
Beatrice of Silva
Benjamin
Blaise
Brendan
Catherine of Siena
Fr Emil Kapaun
Martin of Tours
Stephen
William of Gellone
Good Shepherd
 
CRAFTSHEET 23
Our Lady of Fatima
Sister Lucia
Francisco Marto
Jacinta
Gemma Galgani
Genevieve
Henry
Isabelle
Rose Philippine Duchesne
Jeanne Jugan
Stella Maris (Our Lady star of the Sea)
Philomena
 
CRAFT SHEET 24
Theodore the Studite
Madeleine Sophie Barat
Padre Pio
Robert Bellarmine
Zelie Martin
Corpus Christi
Holy Trinity
Agnes
Hubert
Our Lady of Fatima
Good Shepherd
_______________________________
DETAILS
Each craft sheet has images and descriptions of 12 different saints on each sheet. The images are copies of my original watercolor artwork. Each sheet is printed on regular office paper - it's the same kind of paper that I found is easiest to work with when decoupaging my blocks. They are printed exactly as I printed them for the decoupaged blocks I sold in my shop so there will be no smearing or smudging at all. No blocks are included.
_______________________________
ABOUT
These saint craft sheets can be used to decoupage almost anything! Try making your own feast day decorations, holy cards, artwork, Christmas ornaments, blocks for your home altar or anything else you can come up with. Each description includes the saint's name, feast day and patronage. I have also chosen a quote or a prayer to inspire little ones and the one that cleans up after them. I didn't just want the artwork to be cute, I wanted to give a tiny glimpse of the saint's inspiring story. It is so hard to choose just a few words for each of them, but I hope there is just enough information to be a reminder and an inspiration for further learning.
I made my artwork to put on blocks for my own kiddos - they are meant to be beautiful, educational, inspirational and versatile (for tots, little kids, or big kids). Best of all they give the opportunity for prayerful play. My goal is to design Catholic artwork that is appealing and accessible for children, but that also has rich historicity and symbolism that adults will love too!

_______________________________
COMPLETE SET
If you would like ALL of them, get a big discount ordering HERE. 
_______________________________
DO NOT SELL OR POST ONLINE PLEASE
This artwork has taken me years to research and complete - please enjoy it and share it, but do not sell it or make digital copies. Thank you!
_______________________________
HOW TO MAKE YOUR OWN BLOCKS
Each little image is approximately 1 1/8 inches wide and 2 1/2 inches tall. To make your own blocks I recommend using 1x2 trim pieces that can be found at your local hardware store. You will need to cut them into 3 inch lengths and sand them. 120 grit sand paper works great. I'd like to say it's tricky, but decoupaging images is so easy!!! Check online for all kinds of tips. I personally preferred to use water-based polyurethane when I decoupaged my blocks (it's what's commonly used on floors furniture and tables).
_______________________________
FINISHED BLOCKS
Don't have time to make your own? Check out mine! They look and feel very professional and they are water resistant. www.almondrod.etsy.com
_______________________________
ETHICALLY MADE: Designed and owned by a Catholic mother of 8 and printed in midwest USA. We are committed to doing our best to source all materials from ethically run businesses, most of which are in the USA. Our goal is to honor God in every aspect of our business, from start to finish.